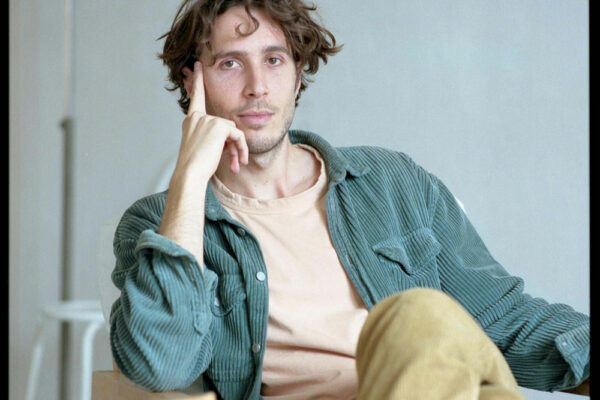 Portrait by Tobias Brust
.
Daniel Correa Mejía, born in 1986, is a visual artist from Medellin, Colombia. Correa Mejía was raised between Colombia, Brasil, and Mexico. Currently he lives, and works in Berlin.
GUIDANCE
2013 – 2015  – Prof. Leiko Ikemura, UdK Berlin
2004 – 2006 – Painting with Betina Garro, Mexico City
.
SELECTED EXHIBITIONS
2021
.
Male Nudes: a salon from 1800 to 2021, Mendes Wood DM, São Paulo, Brasil  – With: Jean Cocteau, Adriano Costa, Solange Pessoa, Tarsila do Amaral, Sarah Lucas and Julian Simmons, Eliseu Visconti, Erika Verzutti, Daniel Correa Mejía, Xie Lei, Athos Bulcão, Francis Picabia, Antonio Obá, Robert Mapplethorpe, Soufiane Ababri, Andy Warhol, Jean-Daniel Cadinot, Joseph Caprio, Tom of Finland, Martine Riviere, Luc Geslin, Osmar Schindler, Patrick Safarti, Alexandre Maspoli, Pierre Paul Montagnac, Bruce Weber, Wilhelm Von Gloeden, Raymond Carrance, Guglielmo Von Plüschow, Mark Beard, Larry Clark, C.J Wielhorski, Léon Galand, Ugo Cipriani, Agence Fulgur, Jean Ferrero, Sacha Schneider, Gustavo Silvamaral, Fernanda Azou, Matthew Lutz-Kinoy, Patrick Angus, Rodolpho Parigi, Luiz Roque, Wolfgang Tillmans, Wallace Pato, Paula Siebra, Patricia Leite, Paulo Nazareth
.
El Camino más Largo, Museum MAMM , Medellín, Colombia – With: Daniel Álvarez, Camila Botero, Camilo Correa, Daniel Correa Mejía, César del Valle, Pablo Gómez Uribe, Astrid González, Dámaxo Henao Salazar, Alejandra Jaramillo Paba, Gloria Jaramillo, Juno, Inty Maleywa, Azul y Lindy Márquez, Mayra Moreno, Mónica Naranjo Uribe, Natalia Pérez, Mauricio Rivera Henao, Hebert Rodríguez García, José Sanín, Gustavo Toro, Andrés Valencia, Lorena Zuluaga
.
2020
Soy Hombre: Duro Poco y Es Enorme La Noche, Fortnight Institute, New York; United States – Solo
Mind So Fast, Body So Slow, Lukas Trobert, Berlin Weekly, Berlin, Germany – Invited by Lukas Trobert – With: Lacy Barry, Andrea Baštýřová, Ulrike Buhl, Carolin Eidner, Wolfgang Ganter, Konstanze Habermann, Hanakam & Schuller, Verena Issel, Caro Jost, Annelies Kamen, Evelyn Loschy, Rascal Operations, Katarína Poliačiková, Betti Scholz, Chiara Wettmann
Uferhallen Manifest, Guest Artist at Peter Böhnisch Studio, Berlin, Germany – With: Peter Böhnisch and Craig Stewart
Landscapes of the South, Mendes Wood DM, New York, United States  – With: Frans Post, Friedrich Hagedorn, Henri Nicolas Vinet, Nicolau Antonio Facchinetti, Giovanni Battista Castagneto, Tarsila do Amaral, Alberto da Veiga Guignard, Alfredo Volpi, Amadeo Luciano Lorenzato, Jose Pancetti, Miguel Bakun, Patricia Leite, Federico Herrero, Adriano Costa, Marina Perez Simão, Alvaro Barrington, and Lucas Arruda
.
2019
Zuhause, Pony Royal, Berlin, Germany  – With: Peter Böhnisch, Daniela Elorza
Zwei Alter: Jung, Galerie Crone, Berlin, Germany   – With: Tom Anholt, Voll Bevza, Kamille Bischof, Werner Büttner, Amoako Boafo, Emmanuel Bernstein, Pepsi Bottrop, Jenny Brosinski, Walter Dann, Andrej Dubravsky, Rainer Setting, Georg Herold, Leiko Ikemura, Aneta Kajzer, Melike Kara, Martin Kippenberger, Jake Mädel, Helmut Middendorp, Robert Muntern, Albert Kehlen, Sophie Reinhold, Stefan Weiterer, Markus Saale, Hubert Schmalfix, Andreas Schulze, Thomas Schütte, Erik Stars, Rosemarie Trocken, Nazim Ünal Yilmaz, Antony Valerian, Jan Möller, Schar Zukerkman
Guest Artist at Peter Böhnisch Studio, Eigenbedarf Uferhallen, Berlin, Germany  – With: Minor Alexander, Peter Böhnisch, Wolfgang Flag, Olaf Hajek, Christian Hellmich, Nicolas Ponton, Gerd Rohling, Alexander Skorobogatov, Craig Stewart, Alexandra Bretter, Angelika Arendt, Julius Weiland
.
2018
Abrazos, Pony Royal, Berlin, Germany   – With: Alexandra Bisbicus, Daniela Elorza
Off Beat aus der Klasse Leiko Ikemura, Schaufenster, Berlin, Germany  – With: Leiko Ikemura, Johanna Hochholzer, Iman Rezai, Sahar Zukerman, Walker Brengel, Kevin Kopacka, Olli Pippo, Lisa Wang, Juni Kim, Marija Felker, Michael Wutz, Fritz Bornstück, Toni Mauersberg, Zurab Shekelashwili, Emmanuel Bornstein, Lennart Grau, Robert Lanz, Ucha Janelidze, Rona Kobel, Lea Gilloire, Achim Reichmann, Helena Petersen, Anita Regle, Viet Bang Pham, Aisuke Kondo, Dargelos Kersten
Anonymous Drawings, Galerie im Körnerpark, Berlin, Germany 
.
2016
Tú & Yo, Pony Royal, Berlin, Germany   – With: Daniela Elorza
Über Farbe und Form hinaus, Leuchtturm, Berlin, Germany  – With: Rural Moser, Aurélie Pertusot, Deborah S. Phillips, Paco Vallejo.
.
2015
Recommended by, Easy!upstream, Munich, Germany  
 Die Klarheit, Colombian Embassy, Berlin, Germany  – Solo
Delta15, Waterwork Falkenstein, Hamburg, Germany  – With: Angela Anzi, Simone Andrioletti, Andrea Becker-Weimann, Jonas Trinker, Patricia Detmering, Dorothea Dorn, Maik Gräf, Elisa Goldammer, Sakura Hada, Almut Hilf, Adrian Höllger, Margarethe Mast, Rebecca Moccia, Fion Pellacini, Philip Pichler, Ellen Pritzkau, Iason Leavitt, Jenny Schäfer, Anna Skov Hassing, Kathrin Wojtowicz, Heiko Wommelsdorf
Klasse Leiko Ikemura, Rundgang, UdK, Berlin, Germany  
 A Place Never Found, Pony Royal, Berlin, Germany   – With: Shua Brotherton
.
2014
Protoplasm, Pony Royal, Berlin, Germany  – With: Alexandra Bisbicus, Shua Brotherton, Karina Villavicencio
.
2013
Metamorfosis, Eurostar, Berlin, Germany  – Solo
.
2012
Metamorfosis, Festival Achtung, Berlin, Germany  – Solo
Refugium, Die Arbeit, Berlin, Germany   – With: Christine Chung, Samantha Leiva, Gulnur Mukazhanova, Sebastian Roth, Robert Stiefhorst, Christina Tekath
.
PRESS / PUBLICATION
Coeur et Art, Interview by Esther Harrison, 2021, Link
Soy Hombre: Duro Poco y Es Enorme La Noche, Published by Fortnight Institute – Epilogue by Chris Sharp, 2020 Link
Art Viewer, Solo Exhibition at Fortnight Institute, 2020 Link
Artnet, Editors`Picks, Cristina Cruz, November, 2020, Link
Artnet, Editors`Picks, Cristina Cruz, February, 2020, Link
Art Verge, Interview by Yannis Kostarias, 2019, Link
yngspc, Interview by Kathe Mothes, 2019, Link
Art Maze Magazine, Interview, 2019, Link
Art Maze Magazine, Summer Issue, Curated by Chris Sharp, 2019, Link
Widewalls, 2016, Link
Artitious, 2015, Link
Süddeutsche Zeitung, Neu Vernetzt, Recommended By, 2015, Link
Lerchenfeld Nr. 30, Zustandsräume, Delta 15, 2015, Link
Delta 15, Exhibition Catalogue, 2015
Festival Achtung, Festival Newspaper, 2012
Refugium, Die Arbeit, Exhibition Catalogue, 2012
DANIEL CORREA MEJÍA | VISUAL ARTIST